Calling all curators of Disney memorabilia! The clock is counting down to perhaps the greatest Disneyland auction of all time. The "Joel Magee Disneyland Collection" auction will begin on Disneyland's 68th birthday, July 17th, and continue through July 19th, 2023.
I have zero affiliation with auction house or toy collector Joel Magee. Even so, I can tell you that I've never seen a Disneyland auction quite like this. The scale of this auction necessitated Van Eaton to rent out a massive exhibition space in Los Angeles to put all the items on display.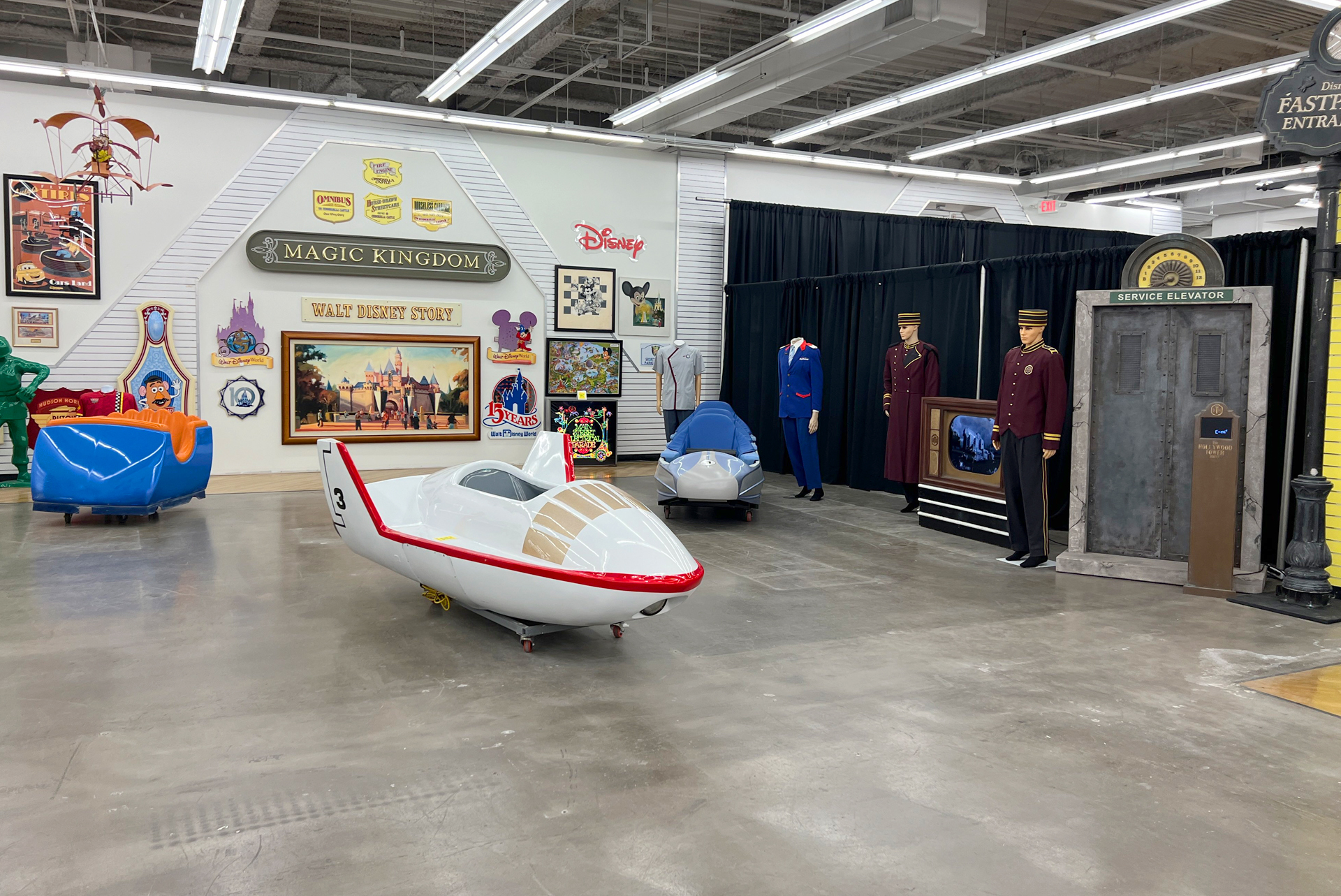 This particular Van Eaton Galleries auction is one of the largest they've ever done. The catalog racks 544 pages filled with original Disney Park artifacts I figured were lost to time. The hours that the Van Eaton team put into photographing, determining conditions, and tracing the history of over 6000 items must have been staggering. You can read the entire catalog at your leisure here.
Now, I will narrow the field of thousands of pieces of Disneyana down to the top 15 most anticipated artifacts in this Disneyland auction. Afterwards, I will show you some (sort of) reasonably priced items I have my eyes on. Here we go!
Most Anticipated Lots
#15: "The Pre-Opening Report from Disneyland" Title Cel
(Disneyland, 1955) The original hand-painted, screen-used title cel which appeared in "The Opening Report From Disneyland" episode of Walt Disney's Disneyland television series (first airing July 13, 1955, just days before the opening of the Park). The cel has an image size of 11.5″x 9.75." Lot 3 is expected to sell for $8,000-10,000 at auction.
#14: A Bob Gurr-Signed Monorail Mark II Panel
(Disneyland, 1961) A panel from the Monorail Mark II, signed by Imagineer Bob Gurr. The yellow Monorail Mark II was added to the fleet in 1961, and this panel was removed during a repair, reconstruction, or upon the development of the Monorail Mark II's. Measuring 30″ tall and 40″ wide, Lot 1114 is expected to sell for $5,000-7,000 at auction.
#13: A Star Jets Attraction Vehicle
(Walt Disney World, 1974-1994) Here is an original Star Jets attraction vehicle from the Magic Kingdom. The Star Jets debuted in 1974 as part of a major Tomorrowland refurbishment, and ran until the attraction was refurbished as the Astro Orbiter in 1994. Lot 1318 is expected to sell for $15,000-20,000 at auction.
#12: A WDW Tomorrowland Speedway Vehicle
(Walt Disney World, 2008) This is a rare Tomorrowland Speedway Vehicle from Walt Disney World. Lot 1046 expected to sell for $7,000-9,000 at auction.
#11: The Original Main Street City Hall Doors
(Disneyland, 1955) Here we have an incredible pair of wooden doors originally installed on Disneyland City Hall during construction of the Main Street in 1955. Lot 186 is expected to sell for $15,000-20,000 at auction.
#10: A Disneyland Jungle Cruise Remote Control Boat
(Disneyland, 1999) A beautiful remote-controlled boat from the coin-operated Safari Adventure boats at the Disneyland Hotel. This piece is featured on a famous Pawn Stars episode "The Happiest Place to Pawn." Check out the segment!
Lot 471 is expected to sell for $3,000-5,000 at auction. Given the Pawn Star guys paid $4,350 for it, someone's not breaking even here if it doesn't get bid beyond the high end of the expected range.
#9: A Peter Pan's Flight Original Attraction Vehicle
(Disneyland, 1955) Grab yourself an original pirate ship ride vehicle from Disneyland's "Peter Pan's Flight". These vehicles were suspended within the attraction and would take countless park guests on an aerial adventure over London, Neverland, and through Skull Rock. This vehicle was removed in 1983 as part of a major refurbishment. Lot 853 is expected to sell for $75,000-100,000 at auction.
#8: 1960s Disneyland Construction Hat
(Disneyland, 1960s) An aluminum hard hat used during construction at Disneyland in the 1960s. This is an iconic piece of Disneyana which everyone from Walt Disney to daily hands were pictured wearing during the expansion projects of the 1960s at Disneyland Park. Lot 5 is expected to sell for $300-500 at auction.
#7: A Walt Disney World Magic Kingdom Sign
(Walt Disney World, 1980s-1990s) The Magic Kingdom sign from Walt Disney World. Measures 120″x 18″ on 29″ long brackets. Lot 1274 is expected to sell for $6,000-8,000 at auction.
#6: A Walt Disney Signed Golden Horseshoe Concept
(Disneyland, 1954) Above is a historically significant original concept painting by Sam McKim of Frontierland's Golden Horseshoe Revue, signed and inscribed by Walt Disney. The item was originally a gift to Pepsi's marketing agent, Don Kendall. Lot 542 is expected to sell for $8,000-10,000 at auction.
#5: A "Skyway" Original Bucket Vehicle Signed By Bob Gurr
(Disneyland, 1965) Fly away in an original "Skyway" bucket vehicle from Disneyland. This "Skyway" bucket was signed by Disney Legend Imagineer Bob Gurr on the upper rim below the railing with the proud declaration that he designed it. Lot 984 is expected to sell for $60,000-100,000 at auction.
#4: A Disneyland Toy Factory Mold-a-Rama Vending Machine
(Mold-A-Rama, 1960s) Behold this rare "Mold-a-Rama" Disneyland Toy Factory Machine. The machine uses an injection-mold system to create plastic figures while you wait. The original machines were featured at the 1965-1965 World's Fair to promote the park. Lot 251 is expected to sell for $2,000-4,000 at auction.
#3: A One of a Kind Hitchhiking Ghosts Animatronic Display
(Walt Disney World, 1971) Here is an incredible display featuring three of the original Hitchhiking Ghosts from the Haunted Mansion at Walt Disney World. These Ghosts appeared inside the guests' Doombuggy at the end of the ride to "follow you home." In 2010, all the figural mirror ghosts were removed from the attraction and replaced with a video image. These three ghosts were retained and sold at the 2011 D23 Convention Auction. The ghosts were then mounted in this custom display. When activated, the ghosts move their heads and arms as "Grim Grinning Ghosts" plays. Lot 744 is expected to sell for $100,000-200,000 at auction.
#2: Original Global Van Lines Moving Truck
(Disneyland, c.1963-79) This is the original Global Van Lines moving truck from the Global Van Lines building at Disneyland. The Global Van Lines moving truck was a Main Street landmark, with its likeness appearing in Disneyland postcards, toys, and countless photos and home videos as a popular photo location. This early Disneyland vehicle was built by famed Imagineer Bob Gurr in the early 1960s and was operable during its first few years before being modified to a static display vehicle around the mid-1970s. After Global Van Lines ended its Disneyland sponsorship in 1979, this vehicle left the park and was later sold. Lot 209 is expected to sell for $100,000-200,000 at auction.
#1: A Model of 1967's New Tomorrowland
(Disneyland, 1990s) A truly one-of-a-kind large-scale model of Disneyland's iconic "New Tomorrowland." July 7th, 1967 debuted a major reimagining of the entire land. While this is not an Imagineering original model, it was obtained from the family of an Imagineer, and shows a superb level of accuracy and attention to detail. Lot 994 is expected to sell for $15,000-20,000 at auction.
Brayden's Watchlist of (Sort of) Reasonably Priced Lots
A Disneyland Yale Towne & Lock Key Blank
(Disneyland, 1955-64) Above is a Disneyland Yale Towne & Lock Key Blank. Blanks such as this were available as souvenirs at the Yale & Towne Lock Shop on Main Street from 1955-1964. Lot 231 is expected to sell for $100-200 at auction.
A Disneyland Zippo Slim Lighter & Box
(Disneyland, 1970s) Who wouldn't want a silver-finished Disneyland Zippo Slim Lighter featuring a large gold-finished "D" overlaying a blue Sleeping Beauty Castle? Measuring 2.25″x 1.5″, the lighter comes sealed in its original packaging and 3.25″x 2.25″ Zippo box. Lot 238 is expected to sell for $100-200 at auction.
A Walt Disney's Disneyland Woodburning Set
(Disneyland, 1956) Above is a vintage "Walt Disney's Disneyland Woodburning Set" by American Toys. This complete set taught the basics of wood burning "for both pleasure and profit" and includes an Electric Pen, (7) Disneyland wood "plaques," (6) paint colors, (1) paint brush, (1) paint dish, "Facts About Woodburning" instructional sheet, and American Toys order form. Lot 369 is expected to sell for $200-400 at auction.
A Collection of Disneyland Railroad Track Pieces
(Disneyland, 1950s) Here is a Tie Plate, Fish Bolt, & Spike used to join the rails and ties of the Disneyland Railroad. Lot 174 is expected to sell for $300-500 at auction.
A Scene-O-Rama Disneyland Park Toy
(Disneyland, 1955) Next, we have a Scene-O-Rama Disneyland Park by the Lido Toy Company. The beautifully illustrated box contains a 3-dimensional map that can be painted, washed off and painted again for "hours and hours of delight." Too bad Disney doesn't still make something like this, unreal! Lot 336 is expected to sell for $400-600 at auction.
A Big Thunder Mining Company Sign
(Walt Disney World, 2000s) Finally, we have a metal sign of the Big Thunder Mining Company Insignia that hung over the queue entrance to Big Thunder Mountain Railroad in The Magic Kingdom at Walt Disney World. Lot 599 is expected to sell for $800-1,000 at auction.
Very Important Note About the Disneyland Auction
The Van Eaton buyer's premium is 21% on top of the winning bid. If the item must be physically picked up or is sold to a resident of California, an additional 9.5% sales tax applies. Factor in shipping as well! Consider that even if you win with the minimum $100 bid on the cheaper lots, you're likely spending at least $130 to obtain one of these pieces.
Another pitfall to consider is that littered among these one-of-a-kind artifacts are mass produced, printed materials and toys that can be found much cheaper on eBay. A few pieces of memorabilia in this auction with a starting bid of $100 I have previously purchased on eBay for around $20. Point is, paying the premium at a Disneyland auction is worth it for rare and one-of-a-kind items. There are many $100 starting bid lots in this auction that feature items I have never come across online or thrifting. Therefore, I find the buyer's premium plenty justified on those rare items. Do your research on the items you want and determine your maximum bid before auction day so you don't enter a bidding war beyond your means.
With those healthy warnings out of the way, get registered on the Van Eaton site if you'd like to bid virtually or, if you're in SoCal, go to the auction in person! Alternatively, you can spend $0 to simply watch people bid ridiculous sums on authentic pieces of Disneyland and Walt Disney World history. There is something for everyone in this once-in-a-lifetime Disneyland auction. I hope you enjoyed this extensive look at the event happening July 17-19, 2023. Share the article with your friends if they're interested in this sort of thing. Thanks for Reading!